Like most other quilters, I have a million UFOs and WIPs. I have a "dream" list a mile long. And, I have baggies of adorable fabric pulls just waiting to become quilts. And yet, I can't stop joining quilt alongs. My most recent is the 1930s version of the Farmer's Wife sampler quilt. I was going to resist this one, I really was. After all, I JUST finished a sampler quilt and still have a few from the same book on my list. But, the Farmer's Wife blocks are EVERYWHERE! The blogs and Instagram are flooded with gorgeous pictures just taunting me to join in. So, I've given in.
We have these gorgeous shot cottons at out LQS that I have just been drooling over. So, I am starting with those and matching up some fabrics from my stash to go with them. This should be bright and cheerful and happy to play with.
I decided to just follow the color schemes of each of Laurie's blocks. I figured that if I did that, my colors would be nice and balanced at the end. :) I pulled out some floral fabrics that I just knew that I wanted to use and found some blocks with the same color schemes and was ready to go. At least I thought I was. The instructions for the blocks are not actually laid out in the book. The book comes with a CD that includes templates, paper piecing instructions and some rotary cutting instructions for the blocks that are easily cut. So you need to decide how you plan on piecing each block. The first 4 I chose really lent themselves to paper piecing as they were intricate and tiny. These finish at just 6 inches each. Here are my first 4 blocks.
#15 Blossom and #82 Pharlemia
They are gorgeous, and I love them and they are so acurate for blocks so tiny. But, they took FOREVER! Worth it in the end I would say.
Next, I did #5 Anne and #19 Carolina
I figured out with Anne that the paper piecing templates are not reversed, so my blocks are coming out the reverse of what is pictured. Not sure how to remedy that. But, so far it doesn't really seem to matter as the blocks are pretty symmetrical.
The Carolina block was my first attempt at paper piecing y-seams. I'm really pleased.
At this point I decided to join in and follow along with the quilt alongs. There are 2 going on, so I am going to try and keep up with both.
Angie at
gnomeangel.com
is quilting along by skill level, starting with the easiest blocks.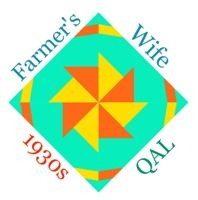 They both started a few weeks ago, so I have some catching up to do. I decided to catch up with Angie first because she started with the easiest blocks and that seemed a quick way to catch up.
Here are those blocks:
#12 Becky and #16 Bonnie
I used the rotary cutting instructions for both. Super simple.
Next, #8 Aunt and #14 Betty
More rotary cutting.
#20 Caroline and #13 Belle
I used some quilty math to figure out the hourglass sections of the Caroline block.
For Belle, some rotary cutting measurements were given, but I had to use a template for the 2 "house" shaped pieces.
#24 Coral and #78 Old Maid
The cutting instructions for Coral show HST instead of flying geese, but I used a little quilty math again to replace those with flying geese.
I paper-pieced Old Maid.
So, now I am all caught up with Angie and her crew. Yay!
Next week, I will try to get caught up with Kerry. They have sewn through block #12 this week and I already have 3 of those done. Woo Hoo!!
Who else has gotten sucked into the Farmer's Wife?
Thanks for stopping by!
Tracy